LinkedIn is a fantastic place for networking and growing your business.
It is essential to make your profile appealing and share progress in your professional life if you want to get more clients or job opportunities shortly.
The "Talks About" section, one of the latest LinkedIn features, is a part of Creator Mode on your profile.
It shows your potential clients or employers what your business or profile is all about.
LinkedIn talks about section lists five areas of expertise or topics you prefer talking about the most.
This article will give the steps to add and edit the "Talks About" section on your LinkedIn profile.
Let's get started.
What is "LinkedIn Talks About"?
In the ever-evolving landscape of professional networking, LinkedIn Talks About section emerges as a captivating facet of LinkedIn.
At its core, this feature fosters discussions around hot topics, industry trends, and pivotal professional insights.
Rather than just being another content-sharing tool, it is designed to promote deeper engagement, encouraging users to converse and share perspectives on a myriad of subjects.
Distinguishing LinkedIn Talks About feature from other LinkedIn offerings isn't challenging.
While LinkedIn has always been a hub for professionals to share updates, articles, and achievements, this particular feature emphasizes real-time discussions and thought exchange.
It's not merely about broadcasting one's viewpoint but about immersing oneself in a community dialogue.
In contrast to the platform's other features, which might focus more on individual showcasing or professional networking, "LinkedIn Talks About" is geared towards collective knowledge sharing and collaboration.
How to Add the "Talks About" Section on LinkedIn
If you just created or want to improve your LinkedIn profile, here's the best way to add this section:
1. Update your LinkedIn app
Either you are using android device or any IOS one, just simply update your LinkedIn app from Play Store or App Store.
2. Click on "View Profile"
Once you login to your LinkedIn account, just go to your profile and click on view profile.
3. Find "Resources" & Click on "Creator Mode"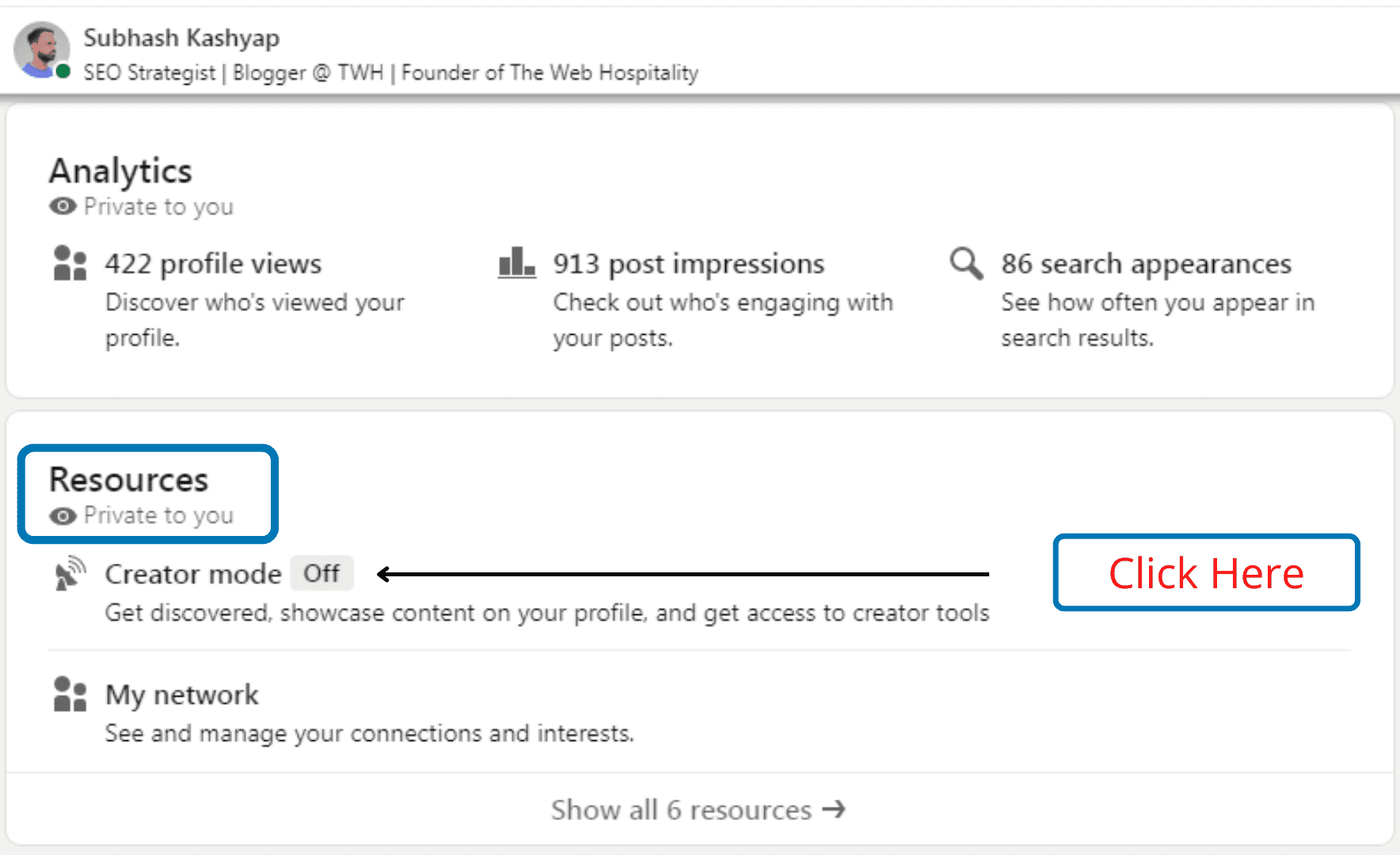 5. Type in Your Interests & Choose the Hashtags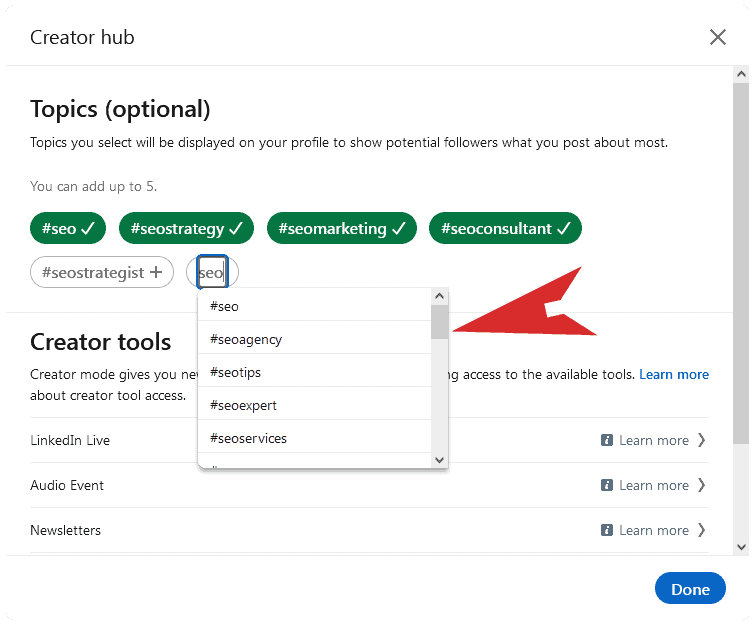 6. Add your hashtags and click on "Done." Your Creator Mode is on.
How to Edit the "Talks About" Section on LinkedIn
I know it can be challenging to choose only five topics;
But, you can easily edit talks about on LinkedIn in case you change jobs, industries, or areas you want to discuss and have expertise in.
Here are the following steps to edit the section for users using a smartphone or a desktop:
1. Click on "Me" -> "View Profile"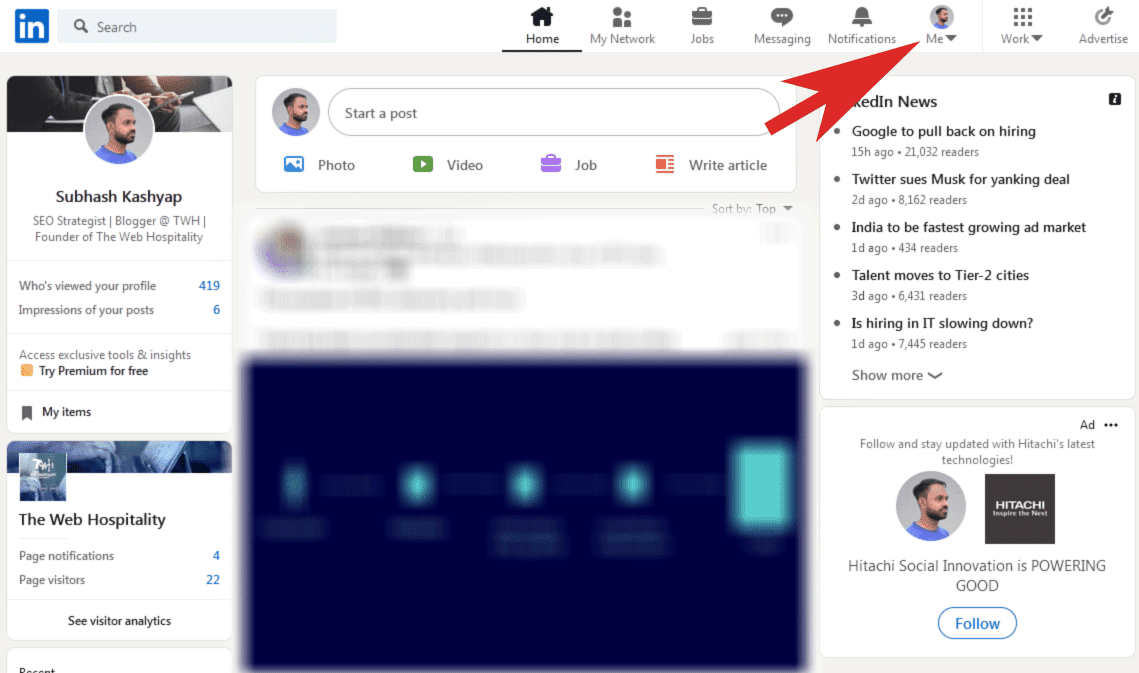 2. Scroll Down & Click on The "Creator Mode"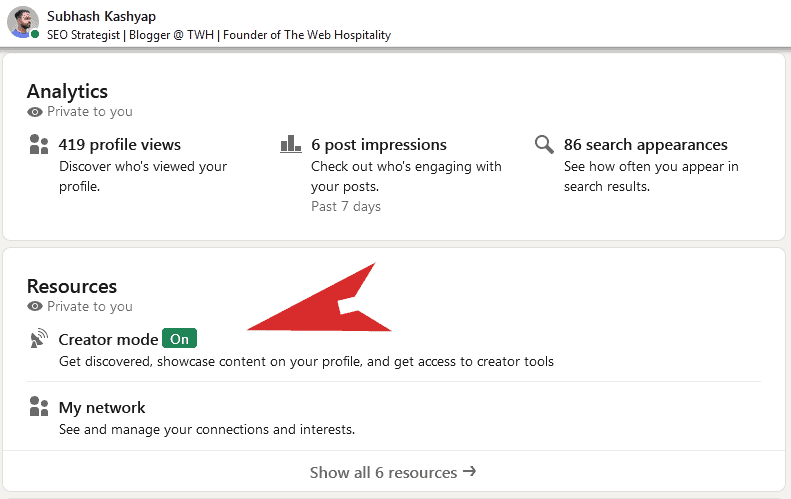 3. Then Edit or Delete The Hashtags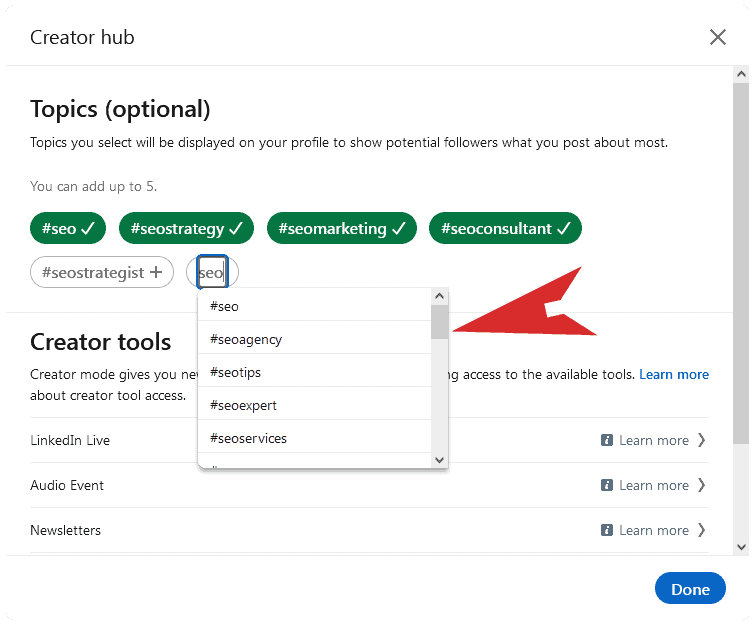 4. Make the changes and click on "Done."
Tips on How to Find Hashtags for Your LinkedIn Profile
Here are the tips on how to add talks about hashtags in LinkedIn profile!
When you add hashtags to your profile, LinkedIn suggests the right ones that fit your skills best.
Before accepting them, checking whether they are suitable for your profile or business is vital. You can use these smart tips to get it right:
Find the right keywords you most want to be associated with your profile.
Use the LinkedIn search bar and enter your topic (for example, SEO Marketing) or your best guess via the hashtag (for example, #seomarketing).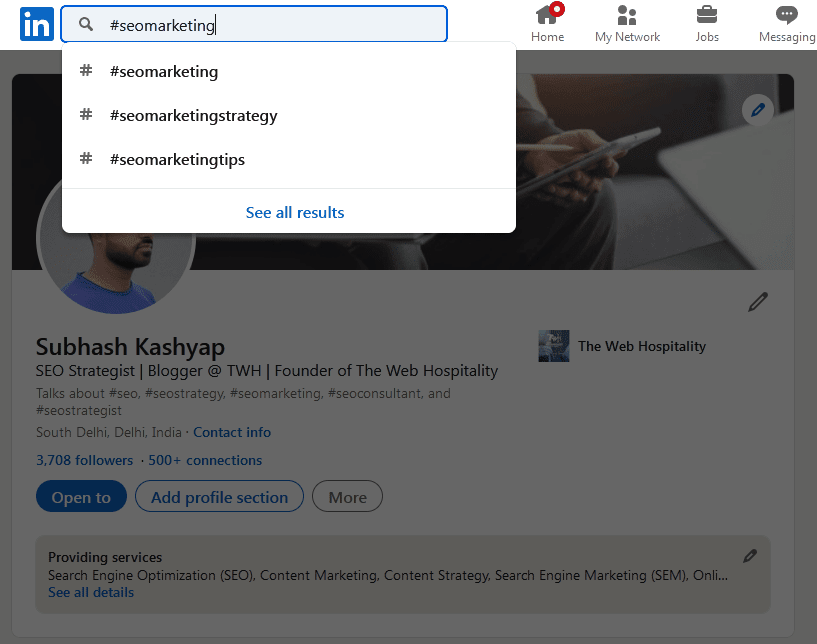 See where people use that hashtag in their posts or on their profiles. Is this topic relevant or confusing for your profile, especially if you want to show up in this feed?
Check out how many users follow this hashtag to understand better whether you can get much traction using it. But if you want to stand out from the competitors, you can benefit from a low number of followers because of less high-quality content in the feed.
Create a list of hashtags with the number of followers for each one to evaluate the best ones.
Review the list, choose the best ones, and add them to your "Talks About" section.
P.S. LinkedIn hashtags are case-insensitive.
It would be best to capitalize words with them – like #eCommerceMarketing, and it will help people better understand what you mean.
How to Delete the "Talks About" Section on LinkedIn
In case you want to remove your hashtags and turn off the talks about section from your LinkedIn profile, then you can follow these steps:
1. Open your LinkedIn profile and go to Creator Mode
2. Click on the hashtags which you want to remove
4. Tap the "Done" button.
Should You Turn on Creator Mode?
The LinkedIn Creator Mode is great for people who frequently share content and updates with others to show their expertise, build connections, and improve communication skills.
This feature is incredible for many reasons:
Increase followers and reach your target audience. By adding your five topics, you can share content based on hashtags and help visitors better understand your content. It will increase the chances that potential followers will click on your content and follow you. Creator mode lets you highlight your original content and establish your voice on your LinkedIn profile.
Promote your profile in the feed. Discoverability is always challenging, but people will see your profile as recommended in the feeds if you switch on creator mode. In brief, it will help your profile to be found easier in search results on LinkedIn.
Boost your content marketing results. Once you activate the creator mode, the LinkedIn newsfeed algorithm will be able to show your content for your five topics in search and discovery results for other members. I mean that it will get more people who are interested in your topics to see your content and interact with it. You can go viral on LinkedIn even if you don't have any followers and connections.
Use the Featured and Activity sections for your LinkedIn profile. With creator mode, the platform will reorder your profile to display the Featured and Activity sections. Using the first section is a great way to showcase your work samples and prove your professional skills and experience to those who visit your profile. The Activity section allows visitors to find your recent content quickly.
Get access to new content analytics tools for creators-only. LinkedIn will put content creators first in line for new and future content analytics tools the platform will launch in the following months. Imagine that you can track your best-performing posts by engagement, views, link clicks, and profile views with one dashboard on LinkedIn.
Put it crudely, LinkedIn offers endless possibilities for members who switch on the Creator mode feature.
And,, I can't wait for new content analytics features on LinkedIn.
Benefits of Engaging With LinkedIn Talks About
Diving into the realm of LinkedIn Talks About feature offers a plethora of advantages to the modern professional.
Firstly, it serves as a potent tool to expand your professional network.
By actively participating in these discussions, you're not just interacting with familiar faces but also introducing yourself to potential collaborators, mentors, or clients.
Secondly, it acts as a pulse check for industry trends and insights.
No longer do you need to scour multiple sources to stay updated. By merely engaging with LinkedIn Talks About section, you're placing yourself at the forefront of emerging topics and conversations, ensuring you remain in the know.
Furthermore, it's a golden opportunity to boost your personal brand and establish thought leadership.
By sharing your unique perspectives and insights, you position yourself as a knowledgeable professional, attracting others who value your expertise and outlook.
Lastly, this feature transcends typical online interactions, championing meaningful conversations. It's not about sheer volume but the quality of engagements.
The Creator Mode feature is the first step to building a dedicated community and unique toolsets for content creators on LinkedIn.
To make the right decision, you can easily compare your results within one month when you turn on and off the Creator mode.
Based on these results, you can decide whether this feature is right for you.
Moreover, it doesn't take much time to switch it off if it's not working for your needs.