Pinterest board names play an important role in enhancing your website traffic.
Undoubtedly, Pinterest is a highly competitive social media channel currently ranked as the 14th most popular social media platform globally.
With over 433 million users, Pinterest is a perfect image search engine for people – whether they are using it for business or personal purposes.
At the same time, 65% of users consider Pinterest as the best platform to search for other people's shared images, products, services, and ideas.
As you can see, most people use Pinterest as a great source of inspiration and idea generation.
If you want to get your Pins and boards noticed, you need to use your Pinterest boards strategically.
This article will help to take your Pinterest game to the next level and generate more views and followers.
What is a Pinterest Board?
Unlike traditional photos posted on Instagram or Facebook, Pinterest Pins are organized on boards that users create.
Pinterest boards can organize your pins based on interests and themes. It is essential to market your brand on Pinterest for a few reasons:
Target specific audiences using Pinterest search.

Follow other relevant boards to generate new content ideas.
Send traffic from your boards to your sales funnel.
The best thing about Pinterest Boards is the opportunity to organize ideas.
One Pinterest user owns boards that can be shared, and group or shared boards allow other Pinterest users to add pins to the board.
How to Create an Eye-Catching Pinterest Board
Once you choose the best topic for your Pinterest board, it is time to make it attractive. Below are the detailed steps to getting it right.
Step 1 - Identify The Best Keywords
As mentioned above, Pinterest is an image search engine.
Focusing on Pinterest SEO and what keywords you should use to get more views and followers is crucial.
You can use the search bar to find popular phrases related to your topic or idea.
Let's say that you type in "breakfasts" and see what suggestions come up below.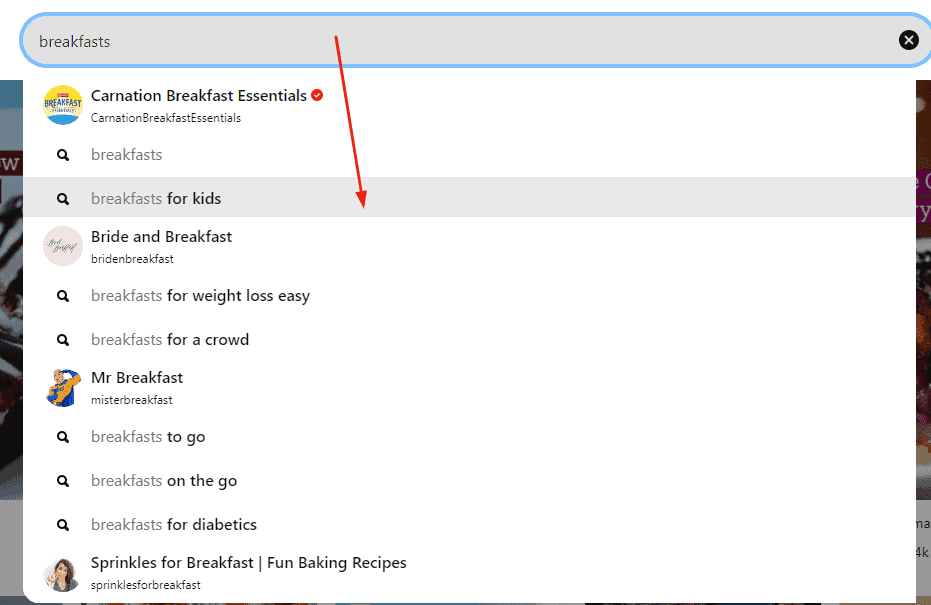 Another way to find some great keywords is to use Ads Manager on Pinterest. You need to have a Pinterest business account to get options.
Go to Ads, click on "Create Ad" and then Continue.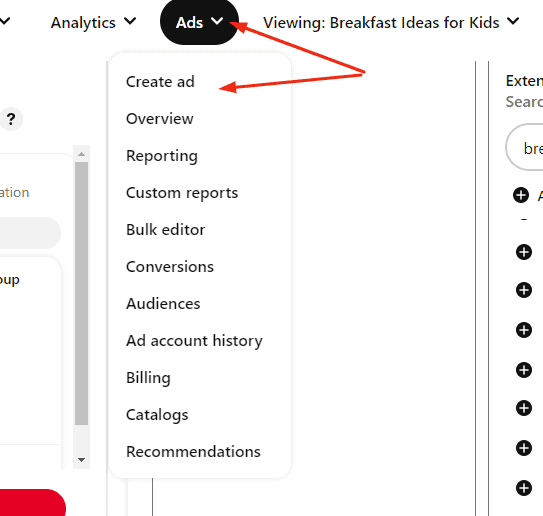 Then, scroll down to the section "Interests and Keywords", enter a search term.
And, see a list of relevant keywords in the box along with the average monthly views.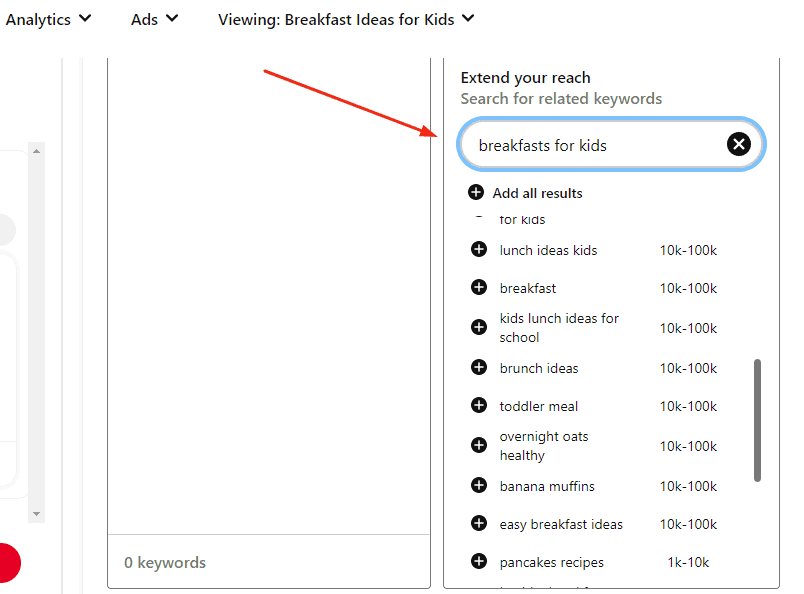 Step 2 - Use The Best Pinterest Pin Size
If you want more views on your Pinterest board, make sure to use the right size for your pins.
It is essential to focus on pin sizes because you're competing for screen space. The more screen space you have, the more likely your pin gets higher engagement.
Stick to the optimal pin size, such as 1,000 х 1,500 pixels or any 2:3 aspect ratio.
Make sure to optimize all your images and videos in vertical format for mobile devices because they can crop horizontal photos and videos in the feed.
Recommended file types for image Pins are PNG or JPEG, and for video Pins are MP4, MOV, or M4V.
Step 3 - Create High-Quality Images
To make your Pinterest board viral, use high-quality images to display correctly on all devices and do your brand justice.
You can use a high-resolution camera to take high-quality photos.
There are a lot of image resolution tools to help you improve your image quality.
You can also search for HD stock videos, images, or illustrations on free content marketplaces like Depositphotos or Shutterstock.
Step 4 - Embed a Pinterest Board on Your Website
It is essential to embed your Pinterest boards on your website to increase the reach of your content and connect visitors to your Pinterest.
Your loyal fans can share your Pinterest boards directly from your website.
It will make it easy for your website users to follow your account and engage with fresh and exciting content.
Moreover, you can show your daily business activity and build credibility with first-time visitors.
Step 5 - Optimize Titles and Descriptions
Using the suggested keywords in your titles and descriptions makes your Pinterest boards more people to see. Keep your board titles attractive and direct.
For example, your Pinterest board could be "Easy Breakfast Ideas" or "Best Breakfast Ideas for Kids."
One more thing to consider, 55% of users visit Pinterest to find something to buy.
You will generate more leads for your brand if you include the right keywords in your boards and descriptions.
Therefore, Pinterest is a unique and excellent platform for eCommerce businesses to get more conversions and sales.
Step 6 - Include a Call to Action
If you want to make people take the next step with you, let them know what to do. A clear call to action will help people understand what to do and where to go.
You can include it in the description or Pin the image to click through your product. Don't use many words in your photo.
Many business owners miss this tip and opportunity to lead a potential buyer to your site.
Adding a call to action is great for many reasons. First, it helps identify a customer's need; secondly, it gives them the solution to the problem.
Step 7 - Leverage The Power of Social Media
Integrating Pinterest into your social media strategy will attract a new audience and grow your business.
Let's say you have an established Pinterest or Twitter page with a large following and engagement.
You can get the most out of that built-in audience and tell your followers about your Pinterest account.
Add a Pinterest tab app to your Facebook page, and let your fans view your boards and repin your content without leaving the social network.
Using cross-promotion is an excellent way to gain followers who are already engaging and who want to engage with your brand.
List of 25+ Amazing Pinterest Board Names 2023
Here is the list of Pinterest board ideas for remarkable names;
Stylish Indoor Plants

Nail Stamping for Beginners
Dream Tiny Houses
World's Most Endangered Animals
Creative Craft Room Ideas
Hacks for Easy Hair Cuts
Simple IPHONE Hacks
Must Visit Travel Destinations
Healthy Lunch Recipe
Special Gifts for Valentine Day
Cute Designs for Small Bathroom
DIY Halloween Decorations
Cool Science Experiments
Educational Games for Kids
IPAD Home-Screen Ideas
Socially Distanced Holidays
Happy Retirement Wishes Quotes
Engagement Party Ideas
Giveaways Ideas for Business
Money Saving Tips
Side Hustle Ideas
Gardening and Landscaping Hacks
Fashion Tips for Men
Women Fashion Styles
Funny Quotes for Friends
Exciting Hacks for Camping
Trendy Outfits for Summer
Vintage Classy Outfits
Best Pinterest Board Names for 15+ Niches
As you know, Pinterest contains a lot of different pins and boards.
To get noticed, you can explore some inspiring and creative board name ideas based on what people are searching for on Pinterest.
These interesting board ideas can guarantee that you will get more views and followers.
Pinterest Board Names for Food & Recipes
All Good Food Recipes
Best Ever Dinner Recipes
Best Comfort Food
Delicious Family Meals
Delightful Food Ideas
Fabulous Lunch Recipes
Great Food Recipe Ideas
Home Cooked Meals
Vegetarian Recipes
Yummy Chicken Recipes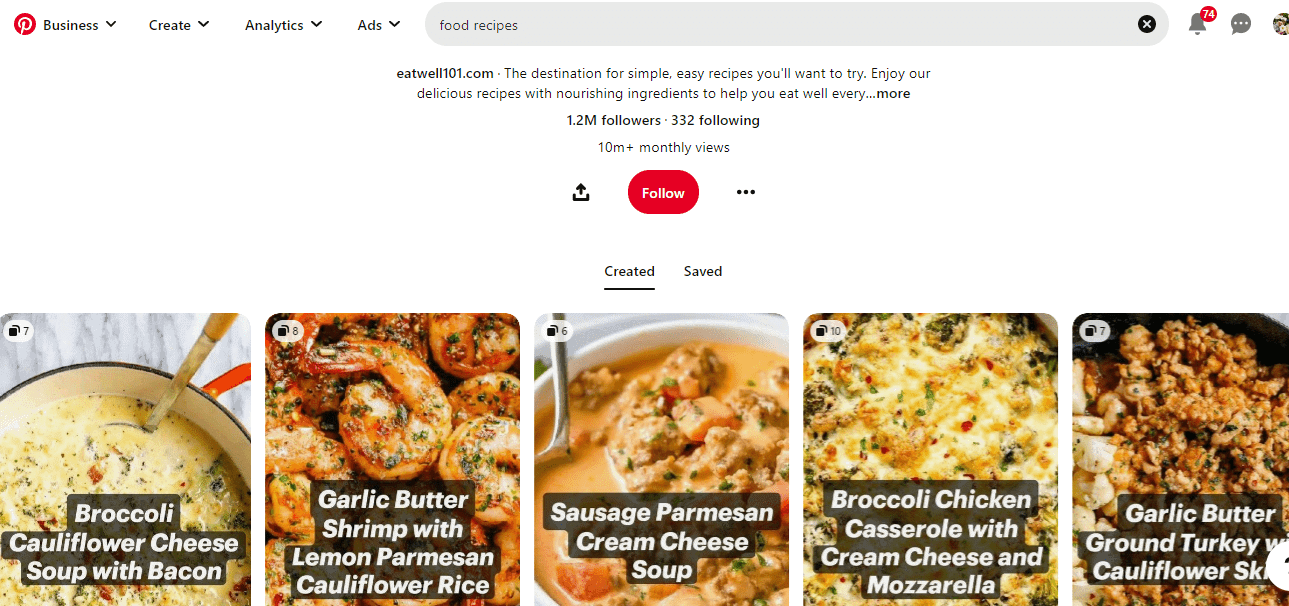 Food is one of the essential things for living beings to support their life, and that's why this category has become one of the most viewed on Pinterest.
You can create different boards grouped by ingredients, cooking capabilities, or dietary requirements to thumb through all the recipes quickly you've shared.
Pinterest Board Name Ideas for Healthy Living & Fitness
Fitness Quotes
Inspirational Tips for Healthy Life
Best Motivational Quotes
Healthy Living Tips
Healthy Lifestyle Activities for Kids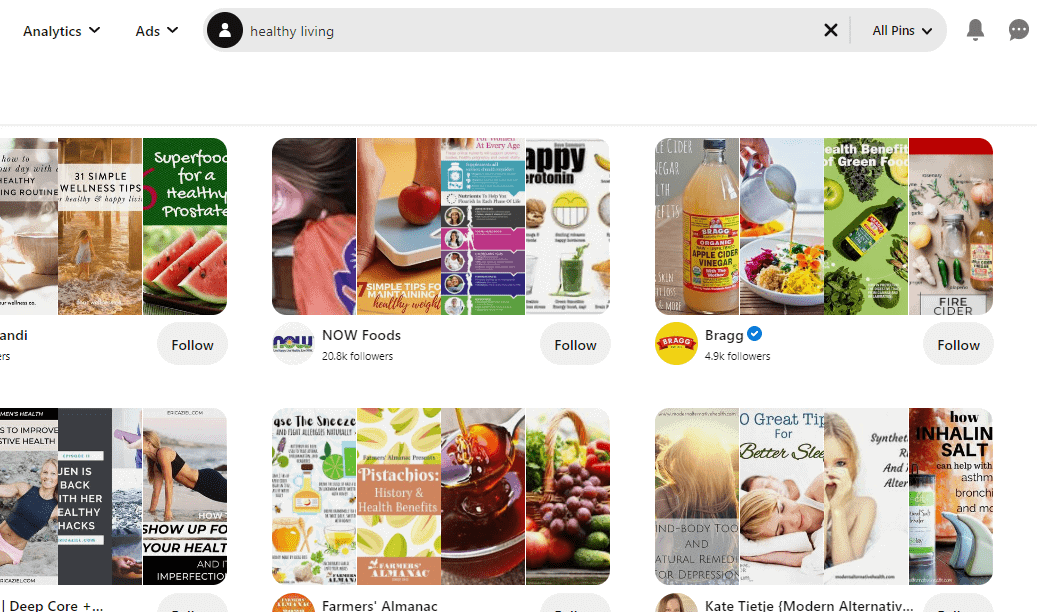 Healthy Living is an extensive category, and you can refer to many things.
For example, you can talk about healthy eating and regular exercising, workout ideas, diet advice, or gym motivation.
Make sure to do your research to understand your target audience better.
Pinterest Board Ideas for DIY and Crafts
DIY Ideas
Crafts Ideas for Rooms
DIY and Crafts Creative Ideas
Ideas for Fabric Crafts
Craftsman Style Homes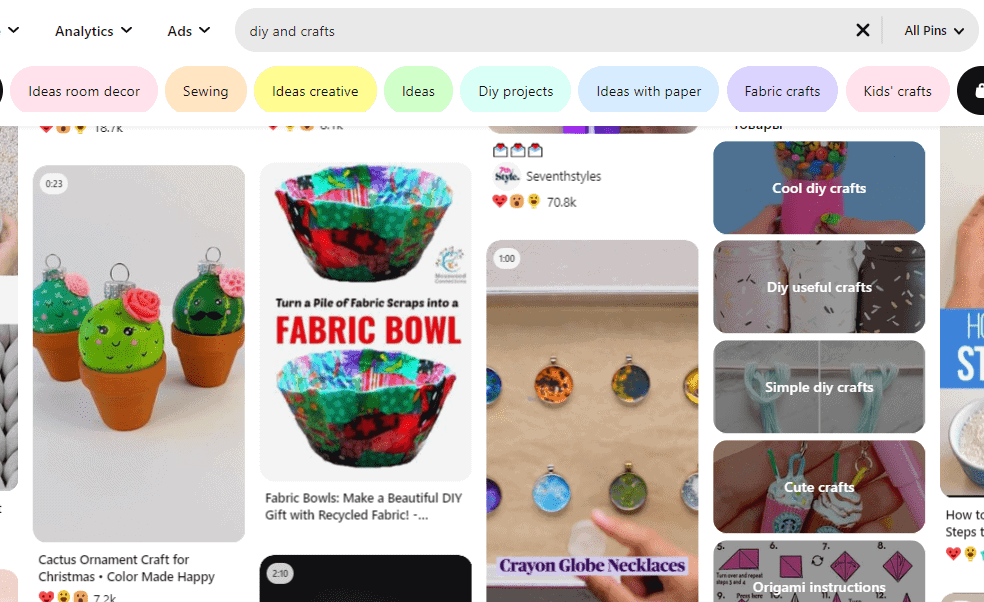 People love different DIY things and products.
You can show off your skills and share how to do something independently, and DIY boards are great for people interested in crafting and parents.
You can also use a Pinterest Business account to show your DIY products and increase conversions and sales.
Pinterest Board Name Ideas for Fashion and Style
Classic Fashion Outfits
Fashion Tips for Beginners
Fashion Design Sketches
Ideas for Vibrant Fashion
Ladies Fashion Ideas
Punk Fashion Style
Top Fashion Styles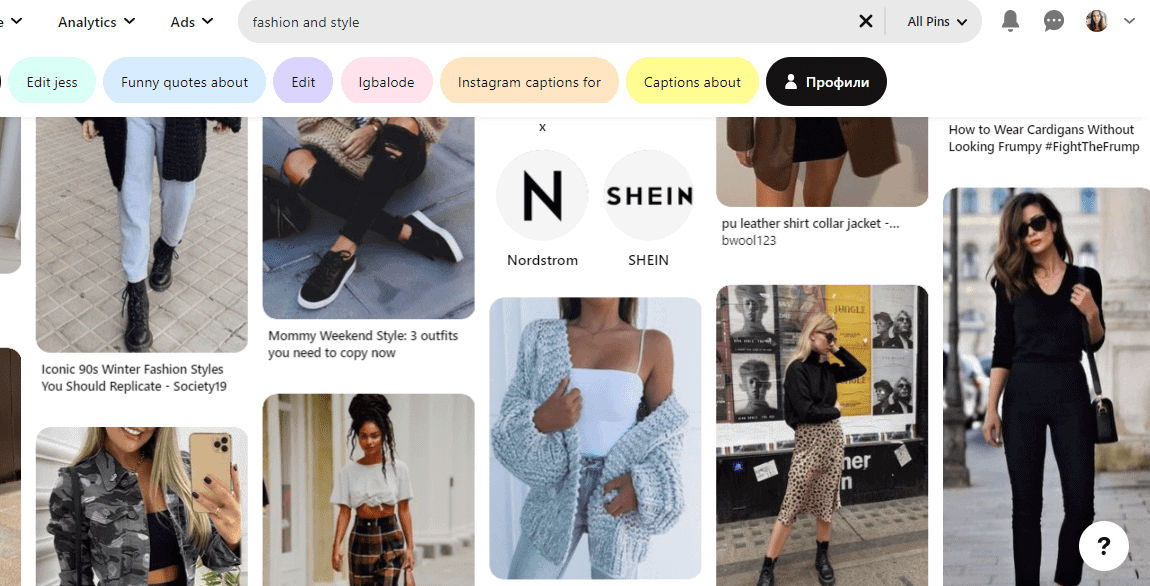 Fashion and style are everyday necessities that everyone considers.
You can create different boards to show images and photos of the clothes and accessories you're wearing. Another great idea is to create style guides and clothing reviews.
If you are a fashion brand, you can use the Pinterest shoppable option to sell your products directly.
Pinterest Board Names for Travel
Couple Vacation Destinations
Single Vacation Ideas
Vacation Mood ideas
Travelling is My Passion
Island Vacation Destinations
Dream Destinations for Abroad
Honeymoon Travel Ideas

If you love traveling and know many helpful things to share, you can create multiple boards on Pinterest.
You can divide your travel boards into travel guides, customs, culture, countries, by budget, hotels, or smart tips.
Pinterest Board Names for Nature
Artificial Plants
Mountains Backed by Nature
Nature Pictures
Natural Masterpieces
Planting Tips And Advice
Wildlife Garden Ideas

People love to be in nature.
If you take amazing pictures of wildlife, mountains, seas, lakes, or natural causes, you can create Pinterest boards to show off your masterpieces.
You can also talk about hiking trails, camping, or other things that preserve nature.
Pinterest Board Names for Home Decor
Amazing Home Ideas
Best Plants for Home
Home Decor Ideas
Married Home Ideas
Room Ideas for Teenager
Styles for Home Decorations

Let's say you are an interior designer and successfully create interior designs and home decor.
Use Pinterest boards to focus on the most inspiring interiors, unique home items, and home favorites.
Pinterest Board Names for Art
Best Pose Reference Ideas
Ceramics Ideas
Easy Ideas for Painting
Ideas for Classy Art
Printmaking Ideas for Kids
Tattoo Art Making Ideas
Visual Art Ideas

People love and look at visual art, especially those who can't paint or draw themselves.
If you are good at painting, ceramics, printmaking, or drawing, show off your creations on Pinterest and share helpful tutorials to teach some skills.
Pinterest Board Names for Photography
Amazing Photoshoots
Beautiful Background for Photos
Capturing Nature Photos
Cool Snaps Ideas
Festival Picture Ideas
Inspirational Photoshoots
Pictures of Wonderful Moments
Stunning Profile Pictures

Photography is much more than just beautiful sunsets or breathtaking mountains.
You can create this board to show your photographs and share lighting tips, great shots, and lens recommendations.
Pinterest Board Names for Your Products or Services
B2B Marketing Products and Services
Homemade Products to Sell
Makeup Products
Products for Curly Hair
Skin Care Solutions
Zero Waste Products

Using this board to center around your products.
And, show them in use is a great idea. Using the Pinterest shoppable option is a win-win way to increase your sales revenue.
You can share images of your products or services, valuable pieces of advice on how to use them, or just upcoming product releases.
Pinterest Board Names for Hair and Makeup Tips
Best Natural Hair Styles
Best Makeup Tips for Women
Curly Hairstyle Trends
Easy Hairstyles Ideas
Healthy Hair Tips
Hair Care And Styling
Secrets for Easy Hair Cuts
Red Hair Trends
Trendy Hairstyles
According to a study, 60% of women outranked men on Pinterest.
Therefore, the hair and makeup ideas board is top of the category searchers. Sharing how-to videos and beauty tips about hairstyles and makeup is a must-have for the female category.
Moreover, the beauty community continues to grow on social media channels, including Pinterest.
Pinterest Board Names for Architecture
Architecture Design Secrets
Architectural House Plans
Building Design Architecture
Concept Drawings for Architecture
Home Improvement Architect
Interior Architecture Designs
Modern Architecture Design

Unique architecture, building designs, eco-friendly designs, skyscrapers, architectural history, and something that people find satisfying, modern, and remarkable.
If you run a business referring to home improvements, building design, or house design plans, this board may be perfect for you to get more views and traffic.
Pinterest Board Names for Books
Amazing Book to Read
Books That Will Change Your World
Funniest Books to Read
Historical Fiction Books
Magnificent Reads
Must Read Books
Recommended Books
Undiscovered Books for Teen

If you love reading and writing books, this board can be right for you to share with your target audience.
You can tell what books, e-books, and authors will be worth reading to educate your audience about a subject matter they don't know anything about.
Pinterest Board Names for Business Tips
Best Way to Get Customers
Focus on Quality Instead of Quantity
How to Get Clients
Secrets to Grow Business Effortlessly
Tips to Be Passionate
Understand Risks and Research
Ways to Analyze Competitors

If you run a business and know how to build a successful business, it will be excellent to share valuable business tips on this board.
Many people on Pinterest are looking for time management, motivational quotes, productivity tips, and other business things.
You can create how-to tutorials and eye-catching infographics to outline the business process.
Pinterest Board Names for Technology
Android Apps for Teachers
Excellent Apps for University
High Speed Gaming Laptops
Important Apps for Business
Tech Tools for Everyday
Simple Mouse Tricks
Writing Apps for Students

Whether you like it or not, technology is rapidly growing and offering innovations every year.
If you follow tech trends and provide tech products, use this board to tell about the coolest gadgets, tech news and reviews, how-to guides, or cryptocurrencies.
Pinterest is a great visual search engine for personal and business reasons.
Whether you want to share ideas and inspiration or sell your products, choose the best category to make a good Pinterest board.
Fortunately, you have a great list of board name ideas to get more views and traffic. Keep SEO in mind when optimizing your pins and boards.