Everything You Need To Know About Google Web Stories
Did you know that you can now create engaging and visual stories for the web using the Google Web Stories feature?
The latest addition to Google's suite of tools for content creators, web stories let you easily design and publish interactive tappable stories.
A recent survey by Google shows that people are more likely to spend time on a website if it offers visual and interactive content.
Web Stories are simple to make and can go directly onto your website or blog, so they're a perfect way to occupy your readers.
According to a survey, the average time spent on social media by global internet users is 2 hours and 27 minutes each day.
However, by country, trends vary widely, so marketers must consider where their target audiences spend time online.
With this in mind, Google WebStory could be a great way to attract your target viewers.
Let's get started now!
Google Web Story is an open web standard allowing publishers to create fast-loading, visually rich, interactive content.

The idea for the project came from Google's Accelerated Mobile Pages (AMP) team. In early 2018, Google released the first version of AMP stories.

The AMP team was inspired by how people consume content on social media platforms like Snapchat, TikTok and Instagram.
What they discovered is that people didn't want a mere black-and-white screen; they yearned for something more interesting.
They craved content that was not only appealing to the eye, but easy to digest on cell phones and other mobile devices.
So, the team set out to create a new way for publishers to make this type of content.
How to Create Google Web Stories in 5 Simple Steps
Google Web Stories are an ideal way to engage your audience and bring your content to the real life.
You can use them to create interactive, informative stories that can be shared on social media or embedded on your website.
Moreover, you can also include links, images, and videos in your stories to make them more engaging.
Given below are some critical steps you need to follow to create a Google Web Story:
Step 1: Install Google Web Stories WordPress Plugin:
Get started with the primary step of installing Web Stories Plugin if you're a WordPress user.
This plugin makes creating and publishing Web Stories directly from your WordPress site easy.

As the statistics reveal that WordPress powers over 35% of the internet, this plugin can come in handy for many people.
The Google Web Stories WordPress plugin, created by Google, allows you to quickly develop and post your Web Stories on your WordPress site.
This editor comes with templates, a drag and drop builder, and the ability to add custom branded elements.
So, you can also grab existing assets from your WordPress Media Library.
Step 2: Choose a Story Template:
This is the second important step in creating your story. You can choose from various templates, each with its unique look and feel.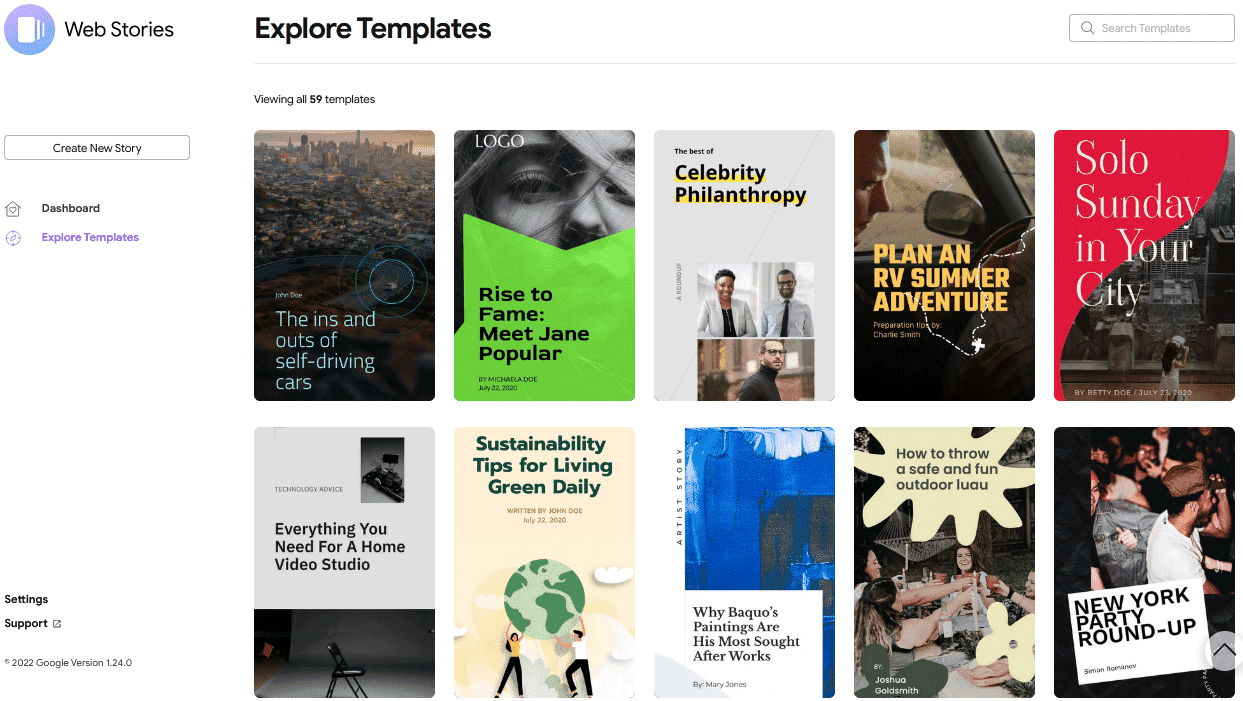 For instance, the "article" template is perfect for stories heavy on text, while the "gallery" template is ideal for stories with many images.
Step 3: Add Content to Your Story:
Now that you've chosen a template, it's time to start adding content to your tale.
You can do this by clicking on the "add" button in the toolbar at the top of the screen in your WP CMS.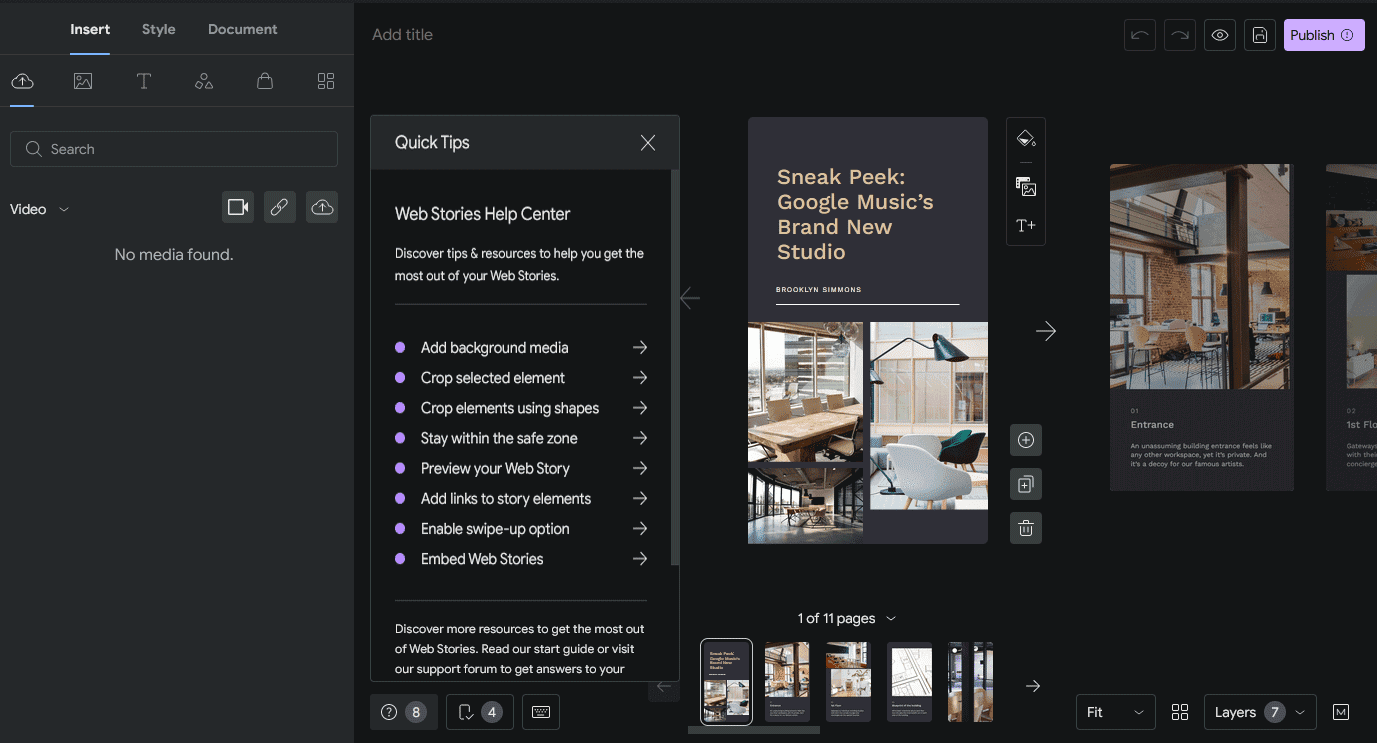 This will add a menu of different types of content that you can add to your story, including text, images, and videos.
Step 4: Customize Your Story:
Now, it's time to start customizing your story.
You can do this by clicking on the "Customize" button in the toolbar at the top of the screen.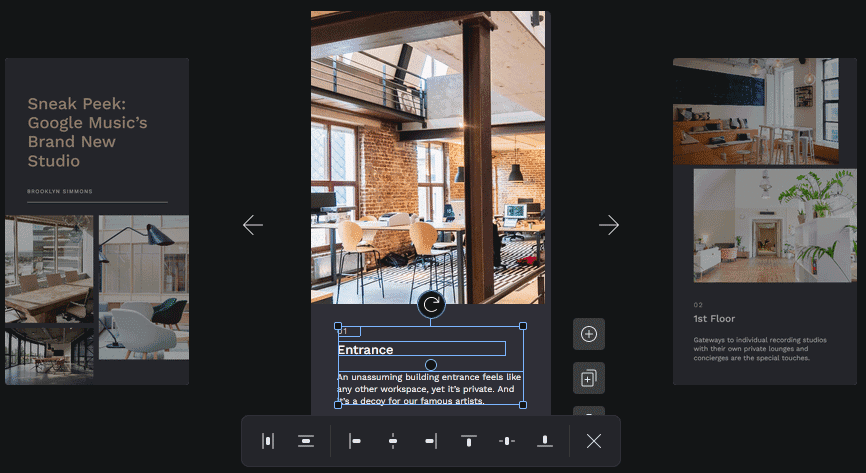 This will display a menu of options for changing the look and feel of your Google web story.
For instance, you can change the background colour and font size and even add your logo.
Step 5: Test and Publish Your Story:
After you've added all your content and customized your story, it's time to test it.
Check if the page is AMP compliant using either the AMP test tool or the AMP Test Validator.

The Sitemaps Report and URL Inspection Tool can help verify if Google can index your Story.
Use Chrome Developer Tools to test how your story appears on different devices.
You can also use the Web Stories Plugin to test your story directly from WordPress.
When you're satisfied with how your story looks, you can publish it by clicking on the "publish" button in the toolbar above the screen.
I recommend publishing your story on your website and then sharing it on social media.
This way, you can drive traffic back to your site and increase the chances of appearing your webstory in Google search & discover section.
The Best Tools & Templates for Google Web Story
There are several different tools and templates that you can use to create your Google Web Story.
Here are some of the best:
With Newsroom AI, you can start creating Google Web Story for free.
You get access to many features even with the free version, including templates, a drag and drop builder, ability to add links, and more.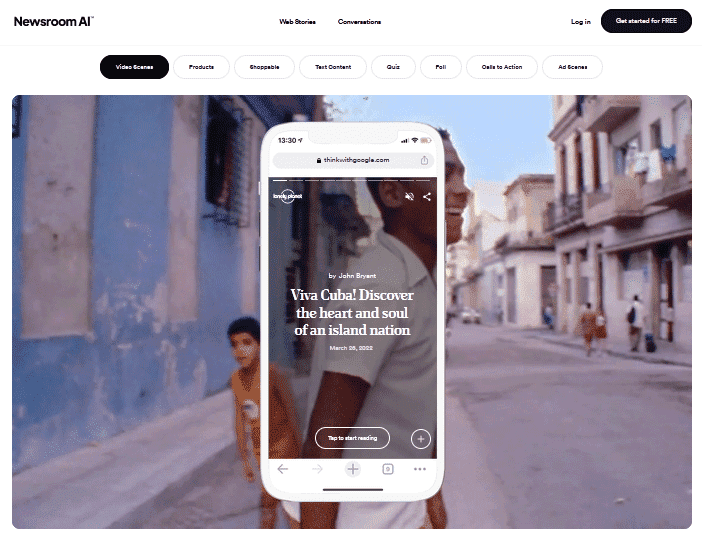 The analytics reporting feature lets you see how well your stories perform.
The process is simple – just set up an account through Google login, then click "Create Story." You will prompt to choose a story type.
Currently, there are three types available: Article, Gallery, and Video.
After selecting the story type you want to create, Newsroom will provide you with a pre-designed template for your Google webstory.
You can use the provided template or start with a blank slate.
Adobe Spark is a great tool for creating visuals, and you can also use it to create Google Web Stories.
With Adobe Spark, you can easily create beautiful visuals perfect for telling stories.
Plus, you can also add interactive elements to your Adobe Spark creations, which makes them even more engaging.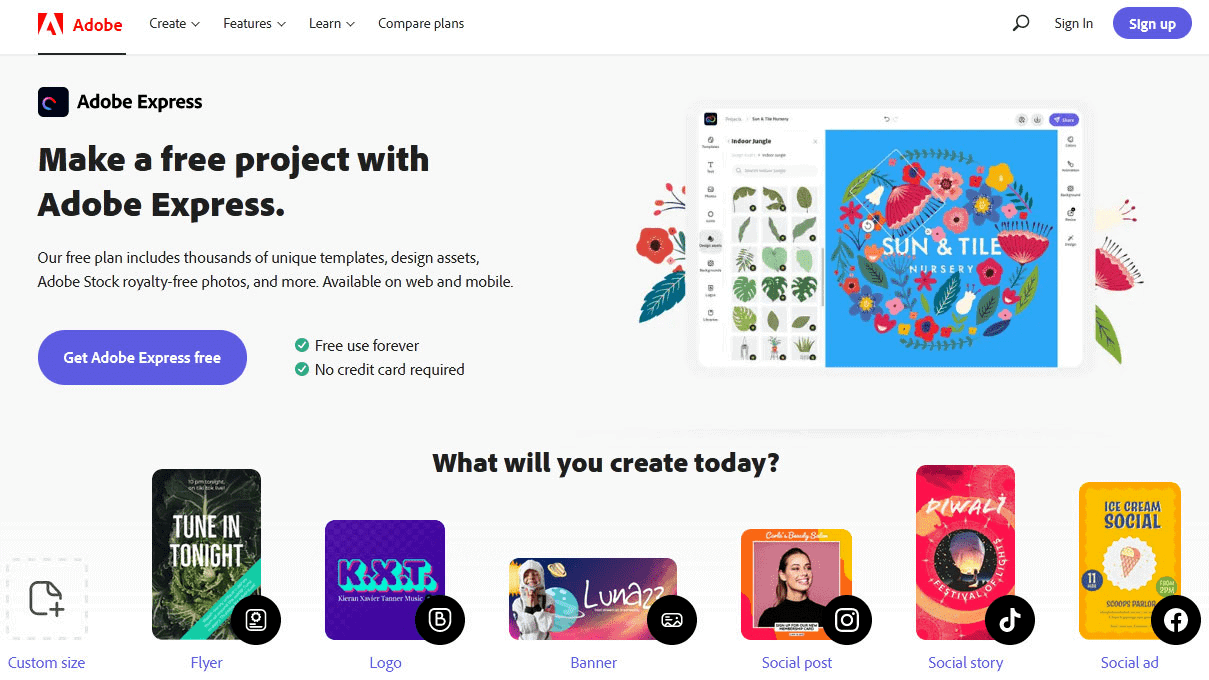 To create a Google Web Story with Adobe Spark, sign up for an account and select "Create."
Then, choose "Web Story" from the list of options. It will provide you with several templates you can use to get started.
It is one of the powerful tools to create all sorts of digital content, including Google stories and more.
With Google Web Designer, you have complete control over the look and feel of your story.
You can also include some interactive elements, such as animations and forms. It's a great tool for people looking to create more complex stories.
Make Stories is a great tool for creating such stories. It's simple to use, and you can create beautiful stories.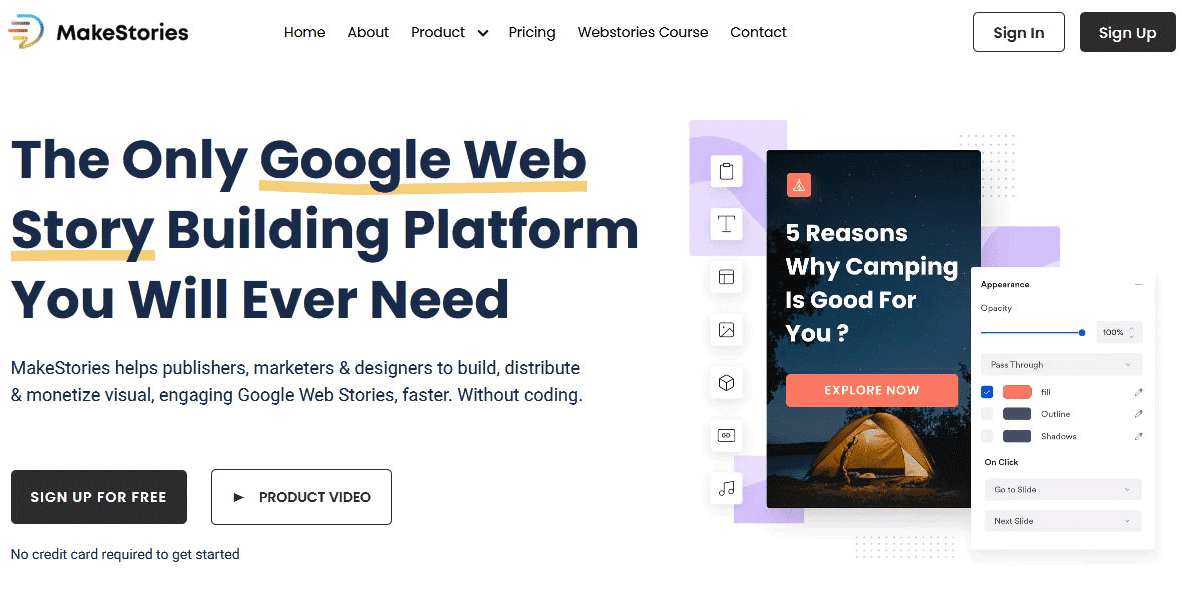 With Make Stories, you can easily add images, videos, and text to your story. You can also change the layout and design of your story with just a few clicks.
They offer WordPress integration, but you may export each tale as a zip file or post it to your FTP on your website.
The Role of SEO in Google Web Stories
Did you know that SEO can play a role in Google Stories? Yes, that's right!
Google has said that they consider a number of factors when ranking Web Stories. This includes things like the title, description, and thumbnail image of a story.
In other words, if you want your story to rank well on Google, it's important to make sure that these elements are optimized.
In addition, Google has said that they may also consider the overall design of a story when ranking it. This means it's crucial to create a visually appealing story and easy to navigate.
I have to say that I'm excited about the potential of internet stories.
Even, they offer a great opportunity for businesses to reach a wider audience. And, with the proper optimization, they can be a great way to improve your SEO.
Below are Google web stories SEO advantages;`
Advanced way of visual prospects.
Helpful in engaging new and wider targeted audience.
Generate sharable link in each webstory.
Supportive in appearing on Google surfaces (Search & Discover).
Drive traffic to your website effortlessly.
The Benefits of Creating Google Web Stories
The following are a handful of the advantages of using Web Stories:
Improved engagement: The recent addition of AMP stories has led to increased engagement with content, with users spending an average of two minutes per story.
For comparison, the average time spent on a web page is just over one minute.
Greater reach: You can share these stories across all of Google's properties, including Search, Discover, and the Google app.
This means that your stories have the potential to reach a wide audience.
More traffic: Besides increased engagement and reach, Google stories can drive more traffic to your site.
According to Google, publishers who create AMP stories see up to 30% more clicks from Google Search.
Improved CTR: Stories can also help improve your click-through rate (CTR). A recent study found that AMP stories had a CTR of up to eight per cent.
The average CTR for web pages is just two per cent.
Content that stands out: On average, an individual spends over two hours daily on their mobile devices.
With so much content competing for attention, it can be hard to make your content stand out. However, Google stories can help you do just that.
Easy to create: You don't need to be a tech expert or designer to create beautiful web stories. Several tools, such as Make Stories and Adobe Spark, make it easy to create stunning stories.
Google stories can help you add some life to your blogging, storytelling on your website, or simply provide a better full-screen experience.
Fun to consume: 65% of people say they like reading stories that are easy to consume on their mobile devices.
Google stories provide an enjoyable and easy-to-consume experience for your audience.
In my opinion, the advantages of these web-based stories far outweigh any disadvantages.
I believe that anyone looking to create more engaging and visually appealing content should try it.
The Future of Web Stories in 2023
As more and more businesses and individuals begin to use Google Stories, you can expect to see notable changes in the coming years.
Some of the things one can expect to see in the future of Google Web Story include:
– More engaging and interactive content
The trend of businesses and individuals using more interactive and engaging content is likely to continue in the coming years.
This means you can expect to see more Web Stories that use animation, videos, and other types of multimedia.
– More personalized content:
As Google continues to collect data on users, it will be able to provide more personalized content in Web Stories.
This could include tailored recommendations and ads based on a user's interests.
– More use of AR and VR:
Augmented reality (AR) and virtual reality (VR) are two technologies that are becoming increasingly popular.
You'll likely see more web stories using these technologies in the coming years.
– Greater focus on user experience:
User experience is something that Google constantly strives to improve.
In the future, you can expect to see more Web Stories designed to give users the best possible experience.
This could include things like faster loading times and a more intuitive design.
Huge changes are coming to Google Web Stories in the next few years.
Interactive content, personalization, and augmented reality are just a few of the things you can expect to see more of in internet stories.
So if you're not already using this platform, now is the time to get on board!
FAQs about Google Web Stories
Google web stories appear on the Google surfaces like Discover feed and search on the Android and iOS devices.
Below are the Google web stories policies;
Content must not be copied.
Keep your text 180-200 characters per slide.
Copyrighted images and videos must be avoid.
Your web story should be unique and complete.
Here are the top 5 examples of Google web stories;
How Do I Deal With Nighttime Anxiety? By VICE
How Stuff Is Made: Money by Refinery29
5 destinations to see wildlife with your kids by Lonely Planet
10 Black-Authored Books To Add To Your Summer Reading List 2020 by Nylon
Ford's Mustang Mach-E 1400 Prototype makes a Tesla look like a toy by INPUT
Ultimately, the gain of using Google Stories is that it's a fast, interactive, and visual way to tell stories on the web.
If your goal is to create engaging and accessible content to consume, then Web Stories are worth considering.
The latest update to Web Stories also allows you to add e-commerce features, which is a massive bonus if you're looking to sell products or services online.
Overall, Google Web Stories are one of the powerful tools that can be used in various ways to enhance your online content.
Have you tried using Google Web Stories? Let me know in the comments below!