Creating social media handles is a crucial marketing component for any business.
However, you need to make it easy for your customers to find your social media pages online as social presence is also important for organic growth of your website.
Once you've selected the business name, you should choose the suitable social media handle for your business.
Unfortunately, many business owners face difficulties finding a good name and not finding the available social media handle.
But it's not a big problem because there are many hacks to choose a perfect social media handle.
First, let's find out what social media handles mean.
What are Social Media Handles?
Social media handles are the public usernames used on social media platforms to represent people and brands. It usually begins with the @ symbol.
Having the same handle on every social media site will make it easier for people to find you online.
Public recognition is essential as your handle is usually associated with your account to connect and interact with other users.
I mean that a social media handle serves as an effective communication tool.
Your followers will use this unique modifier to search for your brand on Facebook and Instagram or mention you using the @ symbol in tweets or stories.
The whole marketing process goes simpler as matching handles show professionalism. Moreover, it is easy to make printed materials memorable and more transparent.
The Importance of Social Media Handles
Social media handles are a significant step for each business as they allow people easily find you online and make your look professional.
Moreover, your handle is attached to every one of your social media posts, and users tag you in their posts.
A social media handle is a great way to send a specific message. That's why creating a clean and witty handle is essential to show credibility and authoritativeness.
Choosing the right one can be great for your online branding. A new Twitter handle for New Your Times looks stylish and short.
Social Media Handle vs. Username
The main difference between a social media handle and a username is that the first is often private, while usernames are always public.
The latter are used for logging in to your account and aren't always visible to the public.
No one cares about your username created for a specific website, as it doesn't impact your brand. While a social media handle directly aligns with your business name and makes it recognizable online.
Notice that many social media platforms require one to enter a username instead of a handle.
But, usernames on social media platforms like Instagram, TikTok, and Twitter end up as your selected social handle.
Best Practices to Nab Your Social Media Handles
Whether you're a social media marketer, or a business owner creating a social media account for your new venture, follow these tips for snagging the perfect handle:
1. Keep it Simple and Memorable
Avoid using long social media handles as they are difficult to remember, spell, and type. There's always a significant chance of making typos in long handles.
Fortunately, many social media platforms like Twitter and Instagram limit them to 15 to 30 characters.
Short handles will help your brand stay clean and memorable on social media and make it easier for users to share through word of mouth and search online.
Don't use complicated and lengthy phrases. Instead, use abbreviations.
If you are afraid of not having enough information about yourself, you can include it in your display name and bio.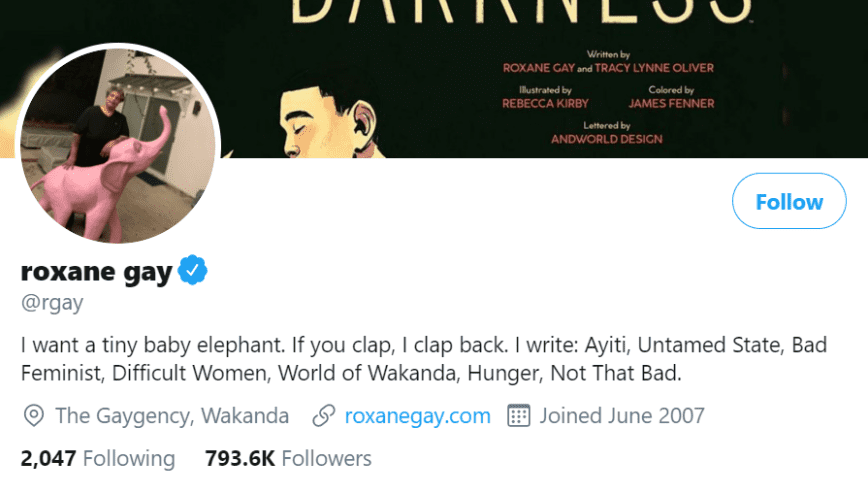 You can also use invented words and words to make your handle more noticeable. Brainstorming can make you feel daunted and clapped-out.
Moreover, you can use multiple online business name generators like Shopify to find the perfect handle. Keep it simple, unique, and memorable.
Having the same handle on every social platform will keep your brand name consistent and accessible for people to search online, from your website to your social media accounts.
If you have two multiple handles for your business, make them as similar as possible to avoid puzzlement.
Ideally, your social media handle must be consistent across all your channels and can be considered another brand asset to focus on.
Avoid using your personal name to represent your business on social media channels.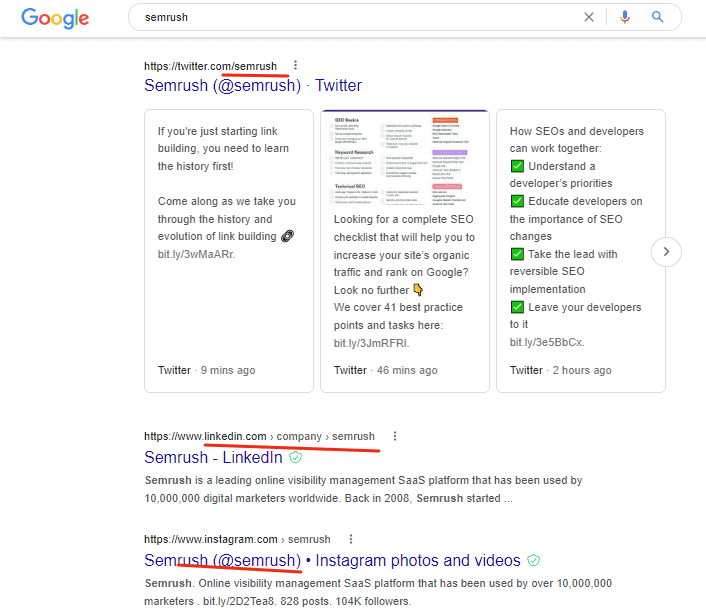 Naming consistency improves brand recognition, promotes better communication, and helps easily recall your name online or in conversation with friends.
When the audience interacts with your social media campaigns, it is easier to mention just one name through @ on the platforms they're using.
3. Align Handles With Business or Domain Names
The most logical thing you should do with social media handles is to ensure that your business name or website domain aligns with your social media profiles.
That will help people readily talk about your business using only one word. Users looking for your business on Google Maps or online can type only familiar and straightforward names in the search bar.
The best way to help people remember your website name is to use "dotcom" or ".com" on your handles.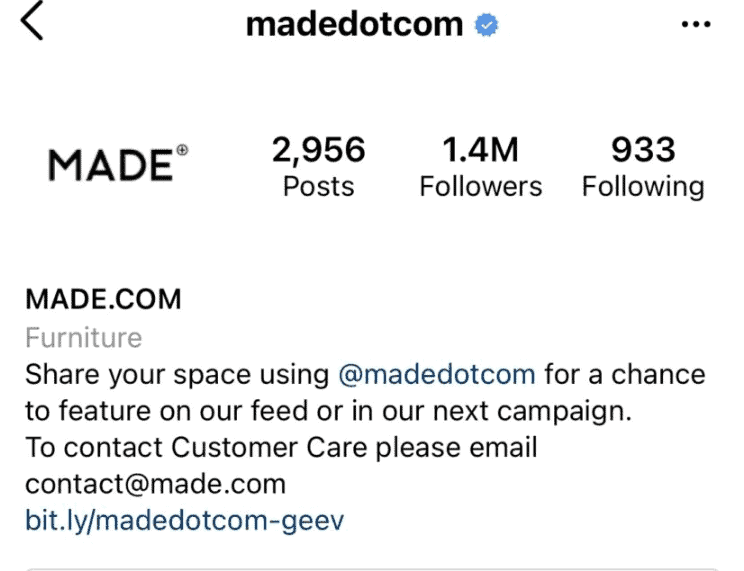 You can also include more contexts into what business or kind of brand you are related to, especially if you're a newbie in your space.
For example, many well-known personalities and brands use this way to show what products or services they sell right away on their profiles.

4. Make it Easy to Spell and Pronounce
Generating word-of-mouth interest is one of the best advantages of going social, and your handle should slip off the tongue to boost engagement.
Alexis Nido-Russo, CEO of Local Eclectic, recommended creating a brand name that anyone can spell or say with ease.
Otherwise, that would be an expensive mistake for your business and an inconvenience for potential customers.
Avoid using long words and too many underscores as it is difficult to remember and washes out the visual strength of your handle.
Add abbreviations if your brand name is too long and hard to spell for people.
Don't include unnecessary characters like symbols and numbers that aren't related to your brand. Use capital letters on your handle to make it clear and easy to read.
For example, "TheWebHospitality" is better than "thewebhospitality".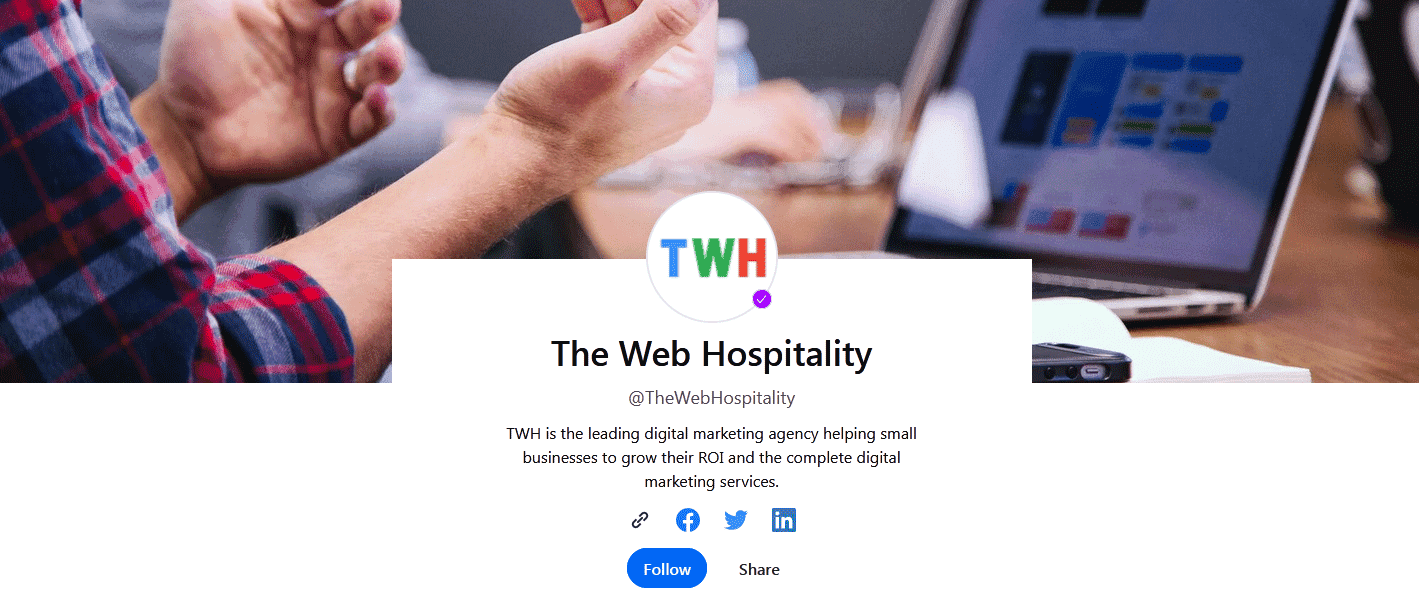 5. Have Some Backup Handles
Once you research and check out what's left, you might find that you still can't get the most concise handle for your social media profile.
In this case, it would be better to have some backup handle options.
There is no need to make them significantly different from your original handle, but you can slightly change them to look professional for your brand.
You can change the basic structure of your handle and include underscores or dashes to make it unique and available as per your need.
However, adding too many numbers or symbols might confuse your followers and make them look unprofessional which may create some doubts.
Also, create a short bio with directions to your official handle for any backup handle.
You can also tag your official handle in your bio to make it visible for visitors to check out the fresh content of your brand.
6. Check Availability Across Different Platforms
Once you choose your desired handle, it is essential to check whether it is available across different platforms to make things similar.
This part can take much time and effort as it's troublesome to check multiple names through multiple platforms.
Fortunately, there's an excellent solution to make this process simpler.
You can use online name generators like Namify or Looka to check social media and domain availability to take the results with a grain of salt.
The best way to check whether the name is available is to go through the process of creating or changing an existing social media handle.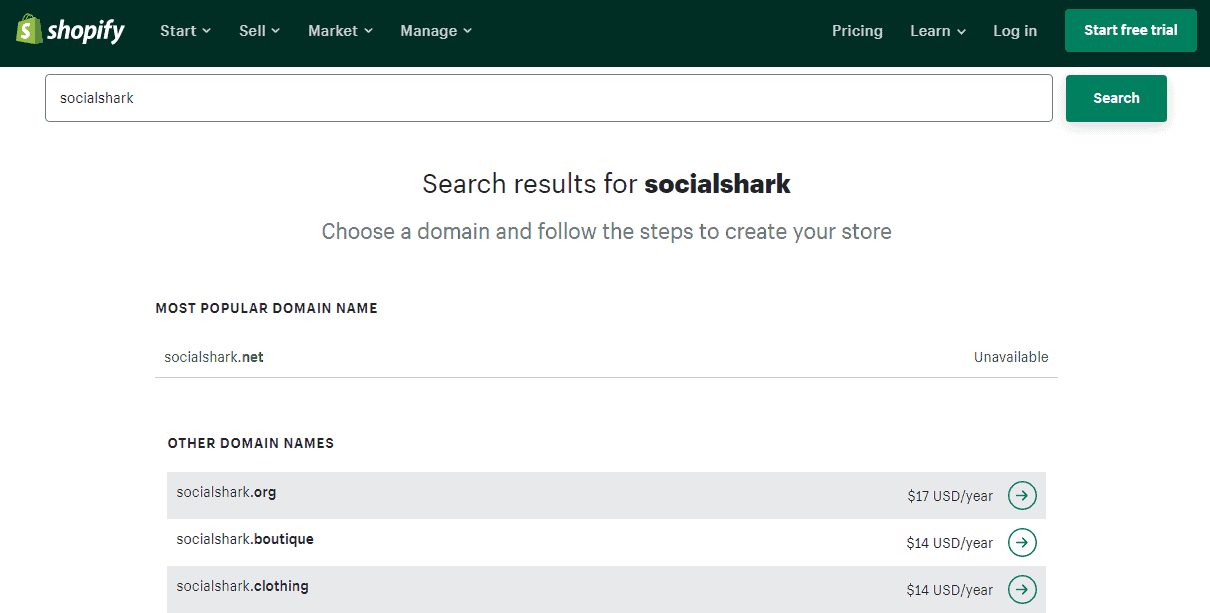 If your name is already taken or you don't use online name generators, don't worry, as there are a lot of workarounds.
Let's get into more detail below.
Things to Try If Your Social Media Handle is Taken
Once you find a great handle, try to claim it as quickly as possible. Otherwise, you would find that the social media handle isn't available anymore.
It is for sure sad, but there are a couple of things if your name isn't available, together with examples of social media handles:
Add "the" or "iam" at the beginning of your username. It's a great way for personal and business accounts—for example, @iamsubhashkashyap or @theseoworks.
Include "ask" before your name. It works great for lawyers, doctors, estate agents, or consultants—for example, @AskPayPal.
Use "try" before the username, which serves as a call to action on social media —for example, @TryMetafy.
Add a location if it is relevant to your brand—for example, @SouthBendFire.
Include your credentials like "HQ," "PHD," and "INC" to prove that you're legit —for instance, @LanaPHD.
Introduce your team or employers—for example, @weareAllBright.
For any business, it is essential to have a consistent and sleek handle to run a successful social media campaign.
After reading this article, I hope you will know everything about social media handles and some tips for creating your own.
Keeping them in mind, you're already in the right direction to get ahead.