Looking for the best Australia business listing sites to list your business?
Business listing websites offer the perfect platform to get noticed locally, attract new customers, and also help you rank higher on search engines.
However, not every Australian business listing site is worth going after.
Without further ado, let's dive in and discover everything about Australian business listing sites;
Things to keep in mind before getting started, the best Australian Business listing sites free and paid, and why they are important.
Related Posts:
The internet is flooding with business listing sites Australia, UK, USA and all the other countries local citations.
However, you need to be careful about which site you spend your time and resources on.
Here's why,
The website may not be well-tested or trustworthy.
Some of these websites could be abandoned with broken links. Having your business listed on such a site will do more harm than good.
The website may receive little traffic, making all the time that you spend on creating a listing go to waste.
The website may have poor domain authority.
Before we give you the list of top Australian business listing websites, prepare your business listing information, we suggest you keep the following in hand.
Business listing title options
Submission email address
Business contact email address
Business phone number
Social media links
Business descriptions (Around 200 words max)
Company logo image
Company/business-related images
Once you successfully list your business, make sure to ask your clients to leave reviews. This will help boost your profile, increase referral traffic, and create backlinks!
Now, to the most awaited part.
Top 10 Australian Business Listing Sites
Here are the Australia's ten best paid and free business listing sites:
Since its inception in 2006, True Local has been a go-to place for locals to check out businesses. Every month, millions of clients find the services they're looking for with this platform.
True Local also has a mobile app that adds to its convenience.
Additionally, customers can leave reviews and images to vouch for your services or products.
Seek is a leading company listing website that primarily helps companies and talent find each other.
However, it's also a great place to list your business for sale or offer a franchise.
Sensis is a renowned Australia business listing site that helps businesses grow locally.
It has a range of products to take care of your business's SEO and marketing needs.
Moreover, Sensis also has a live chat to solve your problems in real-time.
A product of Sensis, White Pages is the go-to place to build connections. You can create a business listing with them through their "Advertise" tab.
If you're looking for a business listing site that everybody knows about, Show Me Local is the place to go.
It's a great platform to promote your business locally as well as give your customers the best deals.
A big name in the Australian business listing site, Hotfrog is actually present around the globe with over 120 million businesses in its directory.
Listing your businesses is a straightforward process. All you need to do is click on the "Add your business" tab and fill up the form in detail.
7. Enroll Business - DA 51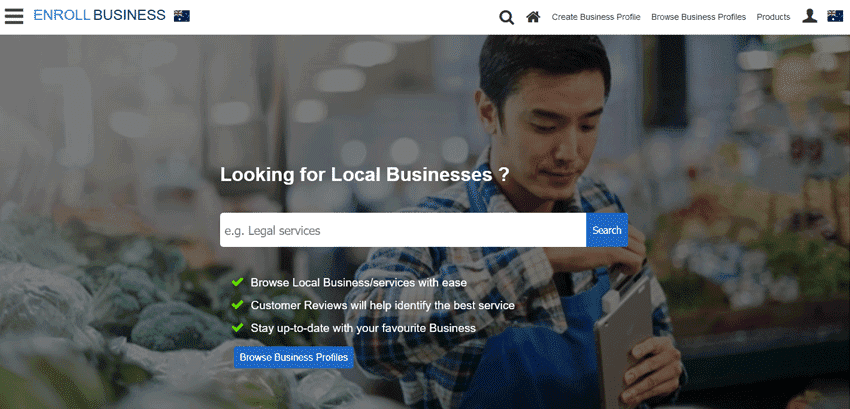 Enroll business is one of the most popular business directories of Australia. It helps you make your business searchable.
Submit your business listing through the "Create Business Profile" tab.
One of the earliest local citation sites, Yelp was founded in 2004.
Over 24 million unique visitors hop on this listing site every month – making it one of the best sites to boost local SEO.
This Australia business listing site covers a wide range of categories for every region – the reason why it's preferred by the locals.
10. Word of Mouth - DA 40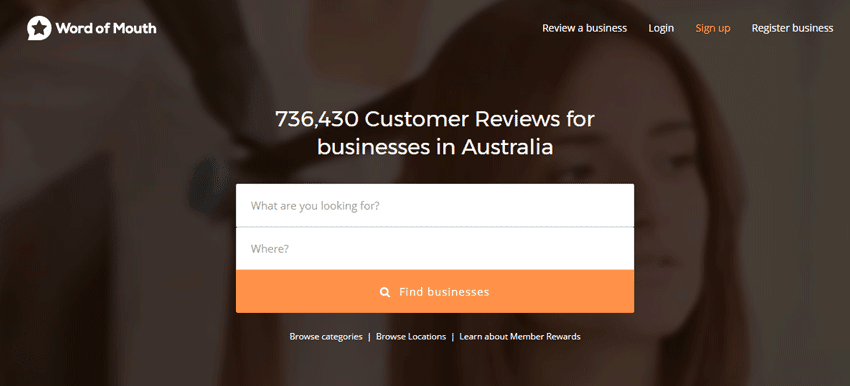 Classified into multiple categories, Word of Mouth is one of the most comprehensive business directory websites in Australia.
What makes it special is that customers can add reviews about the businesses.
List of Note-Worthy Australia Business Listings Sites
Here are the best Australian business directories to boost local SEO:
Google My Business: https://business.google.com/

Business Listings: http://www.businesslistings.net.au/
dLook: http://www.dlook.com.au/
Yalwa: https://www.yalwa.com.au/
Localbd: http://www.localbd.com.au/
Pink Pages: http://pinkpages.com.au/
Aussie Web: https://aussieweb.com.au/
PureLocal: https://www.purelocal.com.au/
Business Listing Plus: https://businesslistingplus.com/
Nation Wide: https://www.nationwide.com.au/
Australian Planet: https://www.australianplanet.com/
Local Business Guide: http://www.localbusinessguide.com.au/
Fyple: http://www.fyple.biz/
Super Pages: http://www.superpages.com.au/
Cylex: https://www.cylex-australia.com/
Australia Online Advertising: https://australiaonlineadvertising.com.au/
Opendi: https://www.opendi.com.au/
Home Improvement 2 Day: https://www.homeimprovement2day.com.au/
Australian Citation Sites to Enhance Your Local SEO
https://buy.nsw.gov.au/ DA 91
https://www.localsearch.com.au/ DA 61
https://www.yellowpages.com.au/ DA 57
https://www.bunity.com/ DA 49
https://www.2findlocal.com/ DA 47
https://www.oneflare.com.au/ DA 45
https://www.find-us-here.com/ DA 44
https://www.tuugo.biz/ DA 37
https://threebestrated.com.au/ DA 33
https://www.top4.com.au/ DA 27
https://www.webnetwork.com.au/ DA 26
https://www.ozbusiness.com.au/ DA 25
https://www.atozpages.com.au/ DA 24
https://www.misterwhat-au.com/ DA 24
https://poter.com.au/ DA 22
https://fixatap.com.au/ DA 21
http://livepages.com.au/ DA 21
https://aussie-hours.com/ DA 19
https://www.infoisinfo-au.com/ DA 17
https://go4it.com.au/ DA 14
https://www.seekfind.com.au/ DA 13
https://www.goguide.com.au/ DA 13
https://near-finder-australia.com/ DA 10
https://easternsuburbslife.org/ DA 10
https://www.businesswiki.com.au/ DA 10
Why are Australia Business Listings Sites Important?
Now that we've covered the sites you can go for, let's find out why you need to create a business listing today.
1. Boost Local SEO
Having your site listed on an online Australian business directory with good domain authority gives you high quality backlinks.
This will ultimately increase your website ranking on the search engine.
2. Get Featured on Google Maps
When you list your website you may also appear in the generic "businesses near me" searches on Google – making your company more visible.
3. Create Brand Awareness
One of the most common benefits of listing your website on such websites is creating brand awareness.
For many locals, online business directories act as search engines.
By creating a strong business profile, you'll be able to increase brand awareness.
4. Attract Local Clients
We talked about the most common benefit, now is the time for the most obvious one.
Having your business on a local citation website gives you the advantage of attracting local customers.
5. Connect With Your Customer
Since most of these Australian business listing sites allow customers to connect with you, you can build a community of reliable clients.
Also, it gives you an opportunity to convert potential clients to customers.
6. Highly Affordable
Most business listing websites allow you to make a listing for free. Others either have a limited free version or charge an affordable fee for your listing.
So, getting started with a business listing website won't make a dent in your pocket.
FAQ(s) About Australia Business Listing Sites
Let's take a look at some frequently asked questions so as to not leave any leaf unturned.
The easiest way to find an Australian business listing site is through a quick Google search. Within seconds, you'll have a list of the leading Australian business listing sites.
However, make sure to check the domain authority and credibility of the website before listing your business.
Yes, there are a number of business listing sites where you can advertise your company for free.
Some of the best ones include: True Local, Seek, StartLocal, Enroll Business, White Pages and more.
Local business listing sites in Australia are a great way to capture clients in your area and create brand awareness.
Having your business listed on a well-known business directory also increases your credibility.
However, before listing your website, check the reliability of the website and make sure that you've all your documents in hand.
Another great option to list your website easily is by doing it through a professional.
A professional local SEO consultant can help you identify the right websites and create the perfect business listing for you!